A year ago I adopted a stray dog. On the 10th of April we are celebrating our first anniversary and I can't describe my feelings for having him in my life.  Allow me to share with you all my thoughts and mostly how grateful I am for my "partner".
He was 1,5 years old and he had already changed home 3 times …. The reason? He got sick (nothing serious) and the previous owners didn't want to spend time and money ….
I was looking at various shelter's announcements for adoption and I saw another dog.  I sent a message but he was already adopted.  They told me on the phone that they have available another one, small too (I used to travel a lot and I wanted to find a dog of small-medium size so that I could have it always with me).  I said yes, why not, please send me a photo …. and it was love at first sight!
A week later they brought him to me (we had lockdown and I could travel to visit him).  I took him in my hands and he sat like a baby, putting his face on my shoulder …. I couldn't believe that he expressed so much trust instantly!
Ever since that day we are always together.  We traveled by car, by ship, we walk, we play, we take a nap, we eat, we watch movies, we chat with friends always the two of us!
It is not a cliche to say that we should adopt and not shop pets.  It is absolutely true!
Top 5 reasons to do so:
You will save a life – a homeless pet's life usually has bad ending
It will cost you less – you may donate an amount to the shelter – no actual fee, price!
You will get a much better animal – rescued pets are usually much better animals
It is a way to fight puppy mills – we all know that puppy mills put profit above pets' welfare and we have to stop this!
They give you unconditional love – they know how lucky they are and they love you unconditionally for this
But above all these, you (me in this instance) are the one that should be grateful for your luck!  Because they will make you a much better person!
Between the 1st stray dog that I had adopted in my life and Phrixos (the 2nd one) there was a gap of 10 years!  A period of time full of work, business traveling, stress, problems etc.  I must admit that I had forgotten how it is to live with a dog at home.  But the moment I had Phrixos at home, I felt that I "spent" many years of my life without real emotions! I am not sure I can make understand what I mean.
Anyway, 5 reasons for believing that a dog makes you much better person:
Keeps you fit
Keeps you humble
Makes you more sensitive
Makes you more sociable
Makes you accountable
I must add that during covid crisis if I didn't have him in life I would have taken pills or drugs to make sure that I stay calm and patient with the whole new normal ….
Here it is a special article dedicated to my love, my boy, my life!
I wish to all of you to be able to live such an unconditional love too!
This is the very first photo of my boy, as soon as I took him and our life as a family started!

And this one is of this very moment, kissing each other!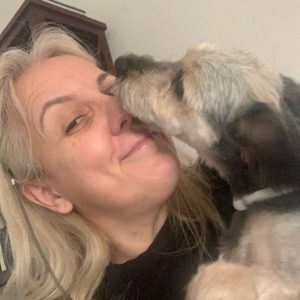 Love you!