The Lindenhof at the old town of Zurich, is a historical site with amazing view.  Definitely is a must when visiting Zurich city.
Actually is a hill mostly famous for the spectacular view at the city's river and old part and for the date of 1798 when the Zurich's citizens swore the oath to the constitution of Helvetic Republic.   If you wish to learn the whole history, please visit the complete reference of Wikipedia.
But for me is the best way to comprehend the character of Zurich.  If you walk up to this hill and take a few moments of rest you will observe the heart beat of the city and its people, the beauty of city's tranquility, cleanliness and respect to nature, history, human beings, animals, everything!
There are many town's spots that we could talk about and we will in the future but this is maybe the very best.  It is really worth it to visit it with day and night light.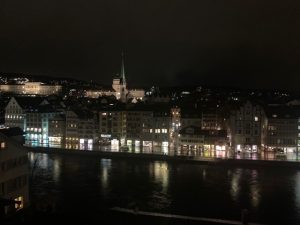 If you have already been there and if you agree that Lindenhof is a superb, outstanding spot please do share with us your flash there. But even if it is not and you wish to suggest another location, please be my guest.
Looking forward in receiving your comments.