i was trying to archive my photos of my trips in Brazil and I realized that every place I visited there had some kind of "connection" with water …. Subconsciously I started having in my thoughts the rivers that I "met" in my life and the impact they had on me, if any ….
I really do not know, but I am totally persuaded that though a "sea-girl" I started loving them and much more respecting them. Yeah, rivers meant a lot to people and civilizations for … ages! And, still do actually, as properly mentioned by my friend @ileanavasconcellos "rivers are very important for the people that live near them, they have a life that depends from rivers, they get their food and water and mostly they have a way of transportation!".
But rivers do not influence us only in a practical way … To @the.whitetail.willow.house rivers symbolize persistence. "They are constantly flowing, sometimes slow and sometimes fast. They are able to modify landscapes by creating meanders and remind me how with persistence they can cut through things and overall change". What a marvelous thought, and how veritable! Don't you agree?
To me rivers are borders. They limit you and on the same time they give you an escape way! They are power, freedom, independence!
And they all get you to my beloved sea! As my mentor @sandydrakatos says "I love water and I adore the sea, not every sea but the sapphire waters of the Aegean and the aquamarine of the Ionian. But when sea is not possible a river will do. To me water means escape, hence if I am not close to the sea, I know if I follow the river it will take me to Her".
And this is the authentic symbolization to me! A way to approach sea!
The featured photo was taken at Rio Grande in Brazil at the point where has the role of natural border between two states, Sao Paulo and Minas Gerais.  Take a look at the link above and you will see how is one of the most important rivers in this spectacular country of Latin America.
If you agree with any of these thoughts or you have any other in your mind, please take a few moments and share it with us.
Just a small tip, whenever you are close to a river, if you cannot swim or dive into its waters, at least take off your shoes and feel it! You will create unforgettable memories!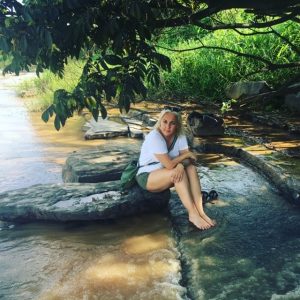 Me, at Rio (river) Sao Francisco, Pirapora, Minas Gerais, Brazil,
on a sunny Sunday afternoon, the third day after i put a first step in this country ….