There is no doubt that if you are lucky enough to have in your family's heirloom a Singer sewing machine you have to keep it and if needed give it a new life. This machine comes with such history that would be ashamed to be thrown away.
I am not here to talk about Singer company history – I am pretty sure that we all know about it or heard about it.  I am here to point out to you that these kind of products were literally master pieces …. unfortunately current manufacturers are not willing to work with the highest quality materials or to add personal work on each product, the way "old" ones used to do.
So please, be so kind and if you find such a piece in your house, try to find the perfect spot for it.  This kind of products need to flourish again and attract all looks!
The featured photos shows how we renovated such a sewing machine and place on a Greek island's home while the below one displays another one in Kavala, Northern Greece that is available for you – through our shop – as is it or, if you wish, in a new refreshed style.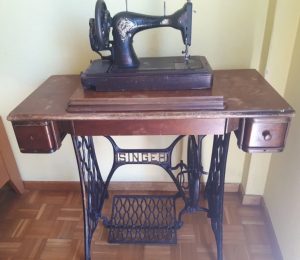 Let me know if you have any interest in it.  Always at your disposal for any questions, thoughts, ideas, friendly chat.
Take care